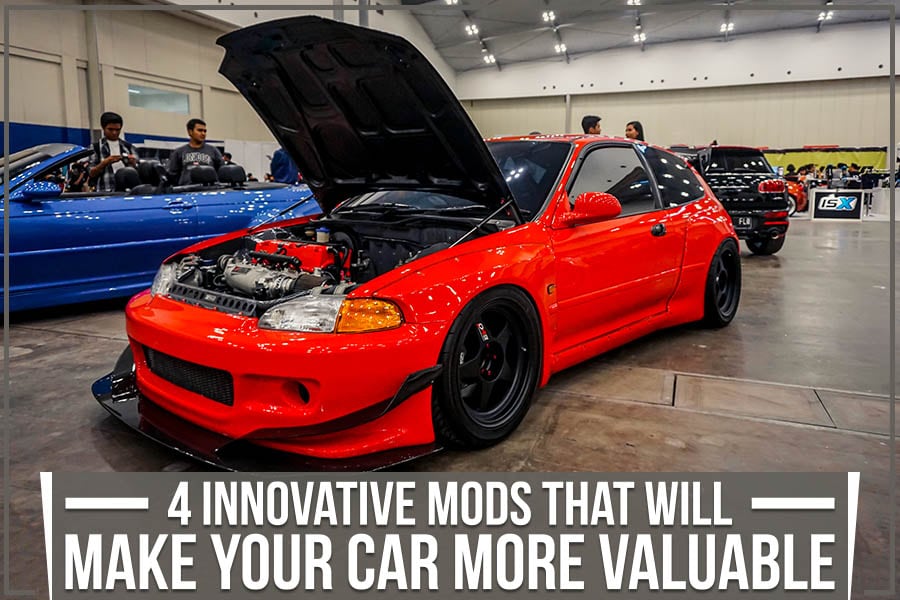 In our never-ending quest to make our cars just a little more valuable, some of us have decided to modify them. Sometimes these mods are straightforward - like adding a spoiler or tinting the windows. But other times, we get a little more creative and come up with unique and practical mods. If you intend to add value to your car with a few simple modifications, check out these innovative ideas:
1)

 

Add a Custom Paint Job -
Add a personalized look to your drive with a custom paint job. You can either go for something subtle, like a new color or design on your hood, or go all out with a full-on wrap. Either way, a custom paint job will turn heads and add some extra value to your car.
If you're not the DIY type, you can always take your car to a professional to have it done. Just be sure to get an estimate beforehand so you know how much it will cost.
2)

 

Upgrade the Engine -
If you're a gearhead, you know that upgrading the engine is one of the best ways to add value to your car. An upgrade will make your car more valuable, whether adding a few extra horsepowers or swapping out the engine entirely.
Get innovative with the exhaust and intake, and you'll be sure to turn some heads. Just be sure not to go too crazy, as you don't want your car to be undrivable.
A word of caution: upgrading your engine can be expensive, so be sure to do your research beforehand and estimate how much it will cost.
3)

 

Infotainment and Stereo System -
A sound infotainment and stereo system is bound to get young drivers excited. A good sound system can make your car much more enjoyable to drive, and it's a great way to show off your personality.
You can do a few things to upgrade your stereo system without breaking the bank. First, you can replace the head unit with a higher-end model. Second, you can add an aftermarket amplifier and subwoofer. Third, you can upgrade the speakers to better-quality models.
4)

 

Replace the Upholstery -
Replacing the upholstery is a great way to personalize your car and make it more comfortable. This also helps protect your investment, as new upholstery will help preserve your car's resale value.
Whether you're looking to add a bit of luxury, increase performance or change up the look of your car, there are plenty of modifications that make your drive valuable. Here at Mandal CDJR serving Latimer, MS, we've seen it all, and we want to help you maximize returns on your vehicle upgrades. Schedule a service with us today and let our team give your ride a facelift